All sandwiches served with your choice of kettle chips, potato chips, fresh fruit, potato salad, or cottage cheese available for an additional charge.
Hummus and Feta
Garlic and Chive Hummus and Feta, served with Toasted Pita Bread and Cucumbers.
Spinach and Artichoke Dip
Served with Toasted Pita Bread
Cheese Quesadilla
Combination of Cheddar and Pepperjack Cheeses
Warm Pretzel
Filled with Jalapeño Cheese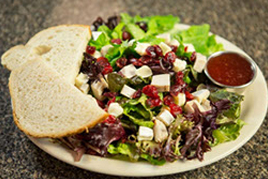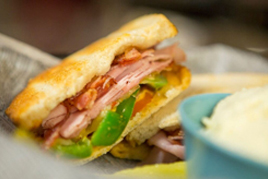 The Piano Man
Roast Beef, Cheddar, Mixed Greens, Tomato, Red Onion, Horseradish Mayo in a Wheat Wrap.
The CCR
Tomato, Cucumber, Red Onion, Green Bell Pepper, Mixed Greens and Garlic Herb Cream Cheese in a Wheat Wrap.
The Cash
Turkey, Pepperjack Cheese, Black Beans, Corn, Mixed Greens, Chipolte Ranch in a Wheat Wrap.
The Who
Chicken Salad, Avocado, Tomato, Mixed Greens in a Wheat Wrap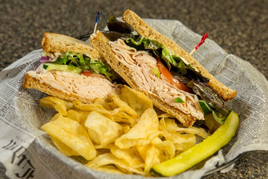 **Many of our products contain or may come into contact with common allergens, including wheat, peanuts, soy, tree nuts, milk, eggs, fish and shellfish.**